Chrysler Cars 4 Classrooms 
Benefiting McAuliffe Heights at Irving Elementary School
Saturday September 21st, 2019
Doing Better Business Office
9AM to 6PM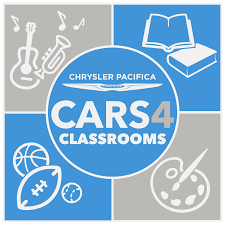 Please join us on Saturday September 21st from 9AM to 6PM at the Doing Better Business Office to raise money for McAuliffe Heights at Irving Elementary!
Chrysler will donate $10 per test drive of a new Chrysler Pacifica to the school for up to 99 drives. 100 or more test drives will earn the school $20 per test drive - for ALL test drives up to 150 drives or $3,000.
McAuliffe Heights will also be entered into the Grand Prize Sweepstakes for a chance to win - the winner will receive a $10,000 donation to their school, and the runner up will receive a $5,000 donation!
Since 1993, Chrysler has been a proud supporter of schools and families helping to raise funds across the country.
Date: Saturday September 21st, 2019
Location: Doing Better Business Office, 1549 Pleasant Valley Blvd, Altoona, PA 16602
Please support
McAuliffe Heights at Irving
by coming out and test driving a new Chrysler Pacifica!
Must be 18 years old and have a valid driver's license to participate.